There are many reasons to learn European Portuguese. What's yours?
---
Are you planning to move to Portugal for working, studying or even holidays? Do you want to be part of the country and its people and understand the Portuguese culture? Are you interested in a new language or you met this one special person in your last holiday and you want to speak his/her language?
Did you find yourself on this list? There are tons of reasons to learn European Portuguese and for sure you have a good one. The problem that many of my students have is that there is not a lot of good material available to learn the language online.
Therefore, I created this website with free material and I have now decided to add my own European Portuguese Language Course, to give you the chance to reach your goal and be a master of European Portuguese!
Want to embark in this adventure? Read on!

"Learning European Portuguese was never so easy. I will help you becoming an expert user of this beautiful language"
"My online course offers you the chance to have high-quality classes, without leaving the comfort of your home."
What you will get with the European Portuguese A1-Course
---
The A1-Course consists of 9 lectures (+ 1 Bonus Lecture) that take around 40 – 90 minutes each.
Both the video and the PDF-Slides of each lecture can be downloaded to watch offline.
The lectures build up on each other, giving you new content each time. You can choose to do them separately, in case you are interested in certain subjects only, or you can do them in sequence.
You can find the respective outline of the lectures in the course description here.
If you want to know how the class will look like, check out the preview video here.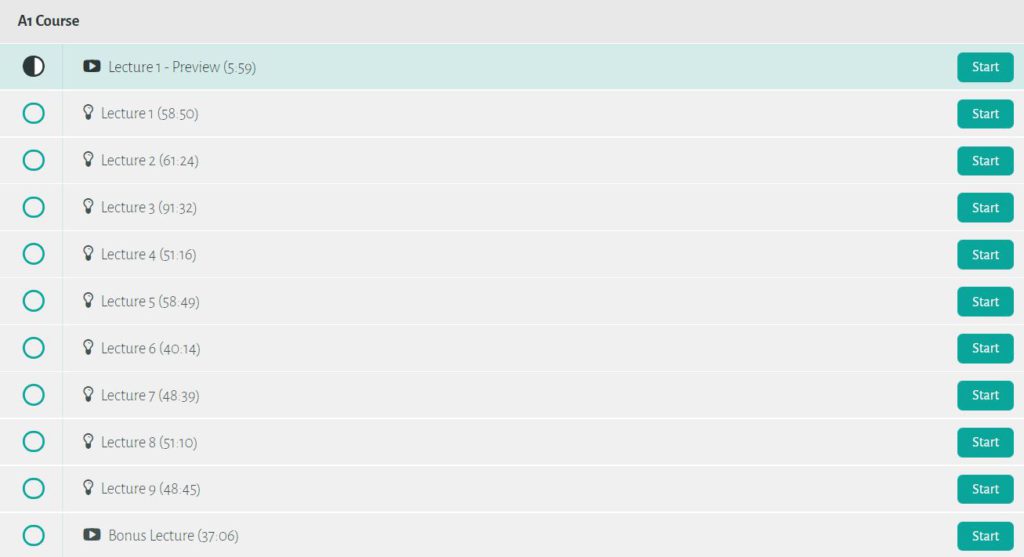 What you will get in addition to the online course
---
Bonus Lecture: You will get a surprise bonus lecture at the end of the course.
Fun Quiz: Each lecture comes along with a quiz in which you can practice what you have learnt.
Material: The slides for each lesson can be downloaded as a PDF, so you can take your notes directly there. The filmed lecture can also be downloaded, so you can watch it offline.
Discussion-Forum: You can leave your comments to each lecture in the comment section and discuss with other students about your progress, your questions, etc.
E-Mail Support: In case you have any questions concerning the course or the content, you can always send me an e-mail and I will reply to you as soon as possible.
The benefits of the European Portuguese Language Course
---
Perfect for Beginners or Intermediates who want to make a revision of the topics
Structured in several lectures to make your learning process easier
Watch as often as you want
Pause course while taking notes
Lifetime access
Great price/quality ratio
30-days-money-back-policy
How much is the European Portuguese Online Course
---
The price for the full A1-Course is $59 (excl. tax). You will get access to 9 lectures (around 8.5h of video material) which means each lecture is not even $7.
If you compare this price to private classes you will recognise that private lessons are much more expensive. Often, you will pay around $20-50 per hour.
With my online course you will receive the same quality and content you would receive in private lessons, just for a much cheaper price.
In case you want to purchase only certain lectures of the A1-Course you can do this as well. Each lecture is then $7. Just save the money you would spend in those two drinks next time you go out 😉
Who will be your teacher
---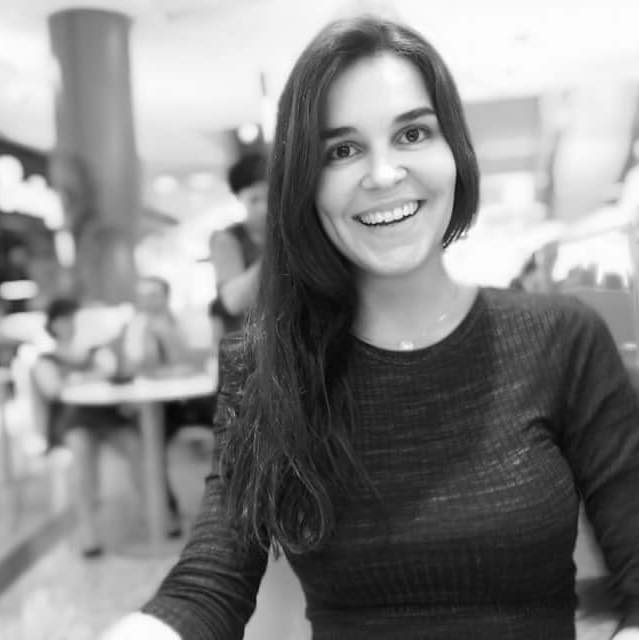 Hi everyone! I am Mia and I have been called a "language freak" by many. I am from Porto, Portugal and I have been a teacher for European Portuguese for many years now. I am dedicated to transform language learning into an effective but fun journey! Besides this, I intend to take European Portuguese to as much people as possible. Want to be my next student?
Read my full story here.
What our students think about the European Portuguese Language Course
---
"Mia is an amazing teacher with a great character. She teaches European Portuguese in a very interesting and fun way, is supportive with whatever questions I have and motivates me a lot to learn the language. Since I have taken classes with Mia and started with her online course, my knowledge of European Portuguese increased a lot. Muito obrigado, Mia!" – Dominik P.
"Finished Lectures 2 and 3. There are many practical phrases and expressions to learn from these courses that I can apply on my return visit to Lisbon next week. Repetition by replaying the videos helps me remember the course content. Muito Obrigado Mia !" – Loy P.
"It was hard to find any good material or course for European Portuguese online. I am very happy that I found Mia and her online course. So far, I finished two lectures of the A1 course and I really enjoy the lessons. The quizzes are a nice way to practice the knowledge after finishing with the lectures. I am looking forward to continuing with the next lessons soon! Thank you Mia!" – Christa P.
---
Don't miss this opportunity!

And don't forget: In case you are not fully satisfied with the course you have a 30-days-return-policy. Zero risk included =)
Don't miss this opportunity and start your journey through the wonders of European Portuguese now.
Frequently Asked Questions
---
The level of the course is A1 and suitable for both beginners and intermediates who want to make a revision of the topics.
The full course is $59 (excl. tax). If you buy each lecture separately it is $7 (excl. tax) per lecture.
Yes, all 9 lectures of the A1-Course are also available individually. Please go to the section "All Courses" here.
No, the individual lectures 1-9 have the exact same content as the A1-Course [Full Course]. However, with the A1-Course [Full Course] you will also get access to the Bonus Lecture.
The lectures of the A1 course are suitable for everyone who is interested in learning European Portuguese. The topics are mostly for beginners, but also for intermediates who want to revise their knowledge.
The course starts now and never ends! It is a completely self-paced online course – you decide when you start and when you finish.
How does lifetime access sound? After enrolling, you have unlimited access to this course for as long as you like – across any and all devices you own.
My goal is to offer you the possibility to become an expert user of European Portuguese. In the future, there will be more courses available (until C-Level).
I would never want you to be unhappy! If you are unsatisfied with your purchase, contact me in the first 30 days and I will give you a full refund.
If you have any further questions feel free to leave me a message in the comment section below or get in contact here.
---
Are you still not completely sure if you should get the European Portuguese Language Course? Don't worry, just give it a try and in case you don't like it you have a 30-days money back guarantee.
See you on the other side =)

---
If you want, you can share the reason(s) you have to learn European Portuguese (if you have any!) in the comments section below. I would be really interested to hear about it!
In case you have any questions please do not hesitate to ask and I will answer you as soon as possible.
See you in the course,
Mia.