Hey dear friends! This is a follow-up post on things to do in Porto, Portugal. In this post, you will find some of the the best things from and in Porto. Today I will be focusing on some of the nice parks around here. In these places, you can relax, catch some sun and enjoy this marvellous city, so I recommend you to pay a visit to some of them, if you want to truly enjoy the city. We, Portuguese, love to sit outside and meet with friends, while we have good conversations and a drink. Therefore, if you really want to be or feel like a Porto citizen, go to the parks and enjoy!
Learn more about this topic on my YouTube channel:
Parque da cidade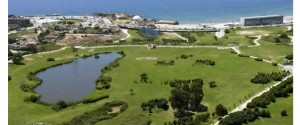 This is the lung of Porto. It is a really big, green area, and it is one of the only parks in Europe (if not the only one) that goes all the way from the city into the sea. What do I mean, you might think? Well, this park is so big that it starts near the sea, where many surfers do their thing and show-off for the by-standers (just take a look, it is pretty cool) and it goes back up into the city. It is at the end of a large and big avenue, by the name of Avenida da Boavista and there you can also see some of the most magical and expensive houses in the city. It is super charming and you are going to love it!
After getting all cozy around the houses, go for a sunset in the park. You can find a lot of animals there, as well as multiple places to relax and paths to walk or run in. You can bring your jogging pants and comfy shoes. Bikes are also welcome! It is ideal for parents with children, for couples (you can kiss in a hidden place, why not?) and for older people. If you like sports, like football or volleyball, you can also find suitable places for these sports inside the park. Basically, if you love nature, with a mix of romance and the smell of the sea, this is the place to be!
Just a final note. In this park, you can also find many different initiatives taking place. Sometimes, you can go for a free yoga or meditation class, for example. Picnics are also happening all the time in here! Just bring the family or come alone, but enjoy a good time at the park!
Palácio de Cristal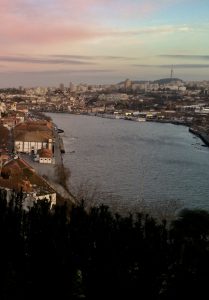 Palácio de Cristal is very beautiful. It translates into "Crystal Palace" and it used, in fact, to be a Palace…shocker! So, the name comes from its history, but nowadays the Palace does not exist anymore, having given place to a sports hall with a round format. In there, many competitions take place and also some important events, like the Book Fair.
Although the palace is already gone, the gardens are still there and I have to tell you they are some of the most beautiful gardens I have ever seen. There are lakes, colourful flowers, romantic places for a walk with your ´lovey´ and a lot of secret spots. Several animals also hang out in this park – a lot of birds, some bunnies, etc.
This park is smaller than Parque da Cidade. However, you also have an outstanding view. Not of the sea, but of the river! Rio Douro with its magical bridges and its cute boats. Here you can also enjoy magnificent sunsets and at times some morning yoga classes. Just search for activities at Palácio de Cristal and you will see they are happening all the time. In summer, besides the Book Fair, you can also enjoy a bunch of free concerts. It is really worth visiting these gardens! Besides, they are almost in the centre of the city, which makes it even easier to access them!
Serralves

This is a park but with a museum inside =) If you like contemporary art, this is your place. In the museum you can visit several exhibitions that happen all the time. If you are more of an outside lover, however, I think it is best for you to take advantage of the different green areas outside. In here you will also be able to find animals, but not the wild kind. In fact, they are domestic animals, like horses, donkeys, dogs, cats, ducks, chickens and almost all of the species you would find in a farm.
In most days, you will be able to go near the animals and interact with them, while learning about them too. Therefore, this would be a cool experience for children. Don't be shy if you're an adult, however… I am one and I absolutely love going there and have this experience. One day a donkey tried to eat my purse, though, but that is another story….it might have been that my purse was made of hay…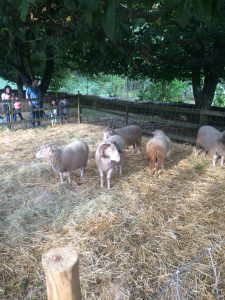 In Summer, you can also go to Serralves for the event called "Serralves em Festa". At this time, the museum and gardens are open 24 hours for 3 days in a row. During this time, you can see some cool concerts, theatre shows, exhibitions, etc. And not only during the day!! At night, you can also go and enjoy and it is way nicer, don't you think? It adds some mystery to everything!
Secret Park – (Part of Virtudes?)
Ok, it might sound weird that I call this park as "secret park", but to be very honest with you I have lived my whole life in Porto (except for the three years I have spent between Holland and England) and only now have I found out about it.
Do you remember in the other post when I spoke about "Jardim das Virtudes"? Well, from this park you can see "Jardim das Virtudes" if you look up. After a quick research, I guess it is even considered as a part of it too, but you enter from a different spot.It is still entered from Rua Azevedo de Albuquerque (the street where Jardim das Virtudes is), through a door that seems to go into an abandoned parking lot. Do not let yourself be fooled, though. If you keep moving, you will see many green areas where you can sit, cosy benches to catch some sun and secret places to explore. It is a medium sized park, but it is worth the while.
From there you also have an amazing view and you can catch relax, while enjoying it. If you come to Porto, I would definitely advise you to pay a visit to it. Also, if you are more of a quiet person, you probably will like it even more, since it is not visited by as many people as the more known part of "Jardim das Virtudes".
Just come and enjoy! =)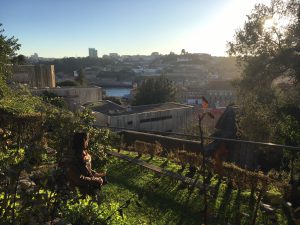 What do you think of the parks I just described? Do you consider visiting them, when coming to Porto? Are parks and green areas a big deal in your country? Just leave your comment below and tell me all about it!
Thanks for reading and see you soon!
Beijinhos,
Mia