What's the best way to learn European Portuguese?
---
The best way to learn european portuguese is by listening to yourself. I know, it sounds really "cheesy" and a little transcendent to say this, but this is really the way to go not only with European Portuguese, but also with any other language.
Let me try to explain myself better. Every person is different, right? Some people like sugar in their coffee, some people don't. Some people even don't like coffee at all. Some people like to sleep on their side, some people prefer being on their back and that will be the best way they will sleep. Sure, they can "train" themselves to sleep in another way, but there is always one way that will make them sleep better.
Well, but you might be now thinking "What does coffee or sleeping have to do with the best way to learn European Portuguese??". Well, I just mean that people are different, so I always tell my students that they have to listen to themselves and to what their preferences are. If it worked for them while learning other languages, it will probably work for them with European Portuguese too.
Let me give you some examples of the kind of students that I have come across with (and I do not prefer one kind or the other, I really think any of the ways you pursue to learn a language is good if it serves the purpose you want):

THERE ARE DIFFERENT TYPES OF STUDENTS
---
#The traditional learners – These are the people that will have to sit down and get heads on on grammar and vocabulary and everything else that comes on a language book before they can start speaking the language.
It will take them generally more time to start speaking, but they will already understand you after a while, if you write them a note and they will be able to read European Portuguese in no time.
I like to call these people the "shy, perfectionist type". I, myself have a bit of this in me, so this is in no way a criticism. It is just the way it is. We are all different.
Interested in European Portuguese books for studying? Check out my favorites here.
#The "backwards" learners – These students are normally more extrovert than the ones above, and they will like to learn the language "backwards" (therefore the name). What I mean by this is that they normally really prefer to learn as they go, not worrying much about learning the grammar and vocabulary before they start practising their speech.
They will make some mistakes, some will make a lot of mistakes, but they will still learn the language at their own pace and they will never stop speaking it when they need to. No mistake will make them stop.
It is kind of like when we are learning our first language, and it is actually getting pretty trendy to learn languages in this "less traditional" way. This kind of learning is especially good if you are living in Portugal or if you have a community in the area where you live of European Portuguese speakers.
#The mixed type learners – These learners will tend to have a little bit of the two type of learners above. Sure, they like to have some ground rules about grammar fixed in their heads, but they will also try and go out and speak the language, anyway they can.
I normally recommend this type of learning to students who live in a non-European Portuguese country, as they won't have probably so much time and opportunity to practice only the speech part. On the other hand, I recommend that they have some grammar, vocabulary, listening and practicing speech classes, so that they can really apply it later when they have more opportunities to speak in a "real life" context.
Practice your Portuguese online on iTalki
So, as I said, these are, in my opinion, the three types of characters we can find in people who are trying to learn a language. As I previously said, there is no right or wrong kind of learner, you just have to do what you think suits you best.
However, I do have some tips I would like to give you if you are trying to learn this intriguing and fascinating language.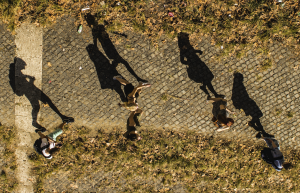 Check out the different types of students in this video:
TIPS TO LEARN EUROPEAN PORTUGUESE
---
#1  EUROPEAN PORTUGUESE PEOPLE SPEAK WITH THEIR MOUTHS PRETTY CLOSED
Ok, what do I mean by this? I just want to tell you that even if you are Learner type #1, you should make a little bit of an effort to start getting in contact with the language and to start practicing a little bit. I have many students that tell me that after following a grammar course online (which is normally Brazilian making it even worse since Brazilian Portuguese has a complete different accent) and they paid a visit to Portugal, they felt really frustrated because they couldn't understand a word the people were saying.
We, the Portuguese, have a tendency to "eat" words, so the sooner you get in contact with the language by listening and speaking it, the better. Remember, even if you aren't perfect, Portuguese people will appreciate that you are making the effort to speak the language. We are a small country, we feel really glad to see people appreciate our culture.
Get a glimpse of European Portuguese Words Pronunciation
#2 "REAL LIFE" SITUATIONS ARE THE BEST
Many studies (Genesee, 1987; Johnson & Swain, 1997; Swain & Lapkin, 1982, amongst others) have found throughout the years that if people are immersed in the language and the culture attached to it, they will learn it faster in general. Many of these studies are  concentrated in immersion of learners of an L2 (the second language you are learning) in a classroom (students only heard and spoke in the target language in the classroom, i.e., if they were learning French they only were allowed to speak and listen French while in the classroom).
This has been proven very successful in many cases and me and many other teachers I know, are mostly using this technique, so when we are giving language classes we try to speak in the target language as much as we can.
Then, if in the classroom (which is NOT a real-life context situation) this has been proven successful, imagine what it is like if you are really "obliged" to use the language in your everyday life. That's what happens if you live in the foreign country of the language you want to learn for a while, or if you join communities that use your target language, in this case European Portuguese, as their main way of communicating.
This is ALWAYS the best option.
Of course, if you are the shy type, it might be that you won't speak for the first times…but don't demotivate yourself. Know that your brain is learning no matter what you might think. Besides it is a great way to improve its plasticity, so it will always be a win-win situation.
So "real-life" situations are the best, but if you can't afford this because you have no European Portuguese community near you or because you can't come to Portugal, just try to have conversations with people (maybe a teacher or someone you know that might know the language) and try to immerse yourself as much as you can in the language.
#3 MOTIVATE YOURSELF
Practice gratitude. Meditate. Eat healthy. Sleep plenty. This will already boost your motivation. But if you want to motivate yourself concerning the language learning do exactly that and write a diary on your progress.
Write post-its and stick them on your walls with new vocabulary you have learnt the day before and only take it down when you already know what it means (more about this and other techniques in a future post).
And remember… ALWAYS. BE. GRATEFUL.. because when we learn a language, we are opening our horizons, we are getting closer as human beings and there is nothing better than this.
---
Hope this helps you in your journey. No matter what, the journey is what is important 😉
If you have any questions, thoughts or you just want to say "hi" (in European Portuguese), just leave a comment below.
Thank you and see you soon!
Bejinhos,
Mia.