Today I'm going to tell you how to say CHEERS and BLESS YOU in Portuguese and I'm going to give you some vocabulary related to the topic.
Read until the end, because I'm going to share a Portuguese superstition on this topic.
You can also watch this topic on my YouTube channel:
I post videos every week about Portuguese and Portugal. If you like the content, feel free to subscribe to my YouTube channel.
How to say BLESS YOU in Portuguese
---
Now, let's get to our topic for today!
In Portugal, as in many other countries, people like to be together and celebrate with each other. Unfortunately, this hasn't been possible with covid, but I hope that little by little we can all get back to normal.
By the way, I wish you all good health in these difficult times.
Oh, and we can start here. Do you know what the word "saúde" means?
"Saúde" means "Health" and we use this word in phrases like the one I said before – "desejo-vos muita saúde" ("I wish you good health"), but we also use it in other contexts.
We will see!
In fact, we use this word when:
– someone sneezes
"Espirrar"  is "to sneeze" in English. If you sneeze in Portugal, someone is likely to say: "saúde"! Another word that you can also say alternatively is "santinho".
With this, the other person is wishing you health.
How to say CHEERS in Portuguese
On the other hand, you can also use this same word when:
– you make a toast
What does "brindar or "fazer um brinde" mean?  "Brindar" or "fazer um brinde" is "to make a toast".
When something very positive happens, or when we are celebrating together, we can hit our glasses against each other and say "saúde" ("cheers").
We can toast to the success of something or someone, toast because someone has a birthday, toast because we are simply with friends and we are happy.
Just hit the glass and say "saúde".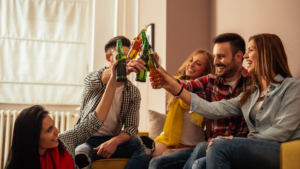 Once again we are wishing good health for what we want or for someone we know.
Another way of saying "cheers" in Portuguese is "Tchin-tchin" (or "chin-chin"). I've heard that this is a bit strange to say in certain Asian countries… if you are from any of those countries let us know in the comments below… but in Portugal it just means that we are toasting someone or something 🙂
There is also another possibility: we can also say "à tua" or "à sua", "à nossa" or "à vossa". This literally means "to yours" or "to ours", because it's a short form of saying "à vossa saúde" ("to your health") or "à nossa saúde" ("to our health").
Sometimes we can also say "saúdinha", which is just a softer and more informal way of saying "health".
Tell me if you have already celebrated many things with your Portuguese friends, while drinking a port or a Douro wine?
And if so, did you use any of these words or are you planning to use them?
I hope you enjoyed this article and that it is useful in your day-to-day.
But before finishing, I would like to share with you this Portuguese superstition:
In Portugal, we don't cheer with water. It is said that it is not good. It can be with wine, juice or lemonade, or anything else. But not with water.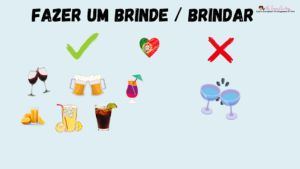 Is it like that in your country too?
Tell me in the comments.
And that's it. For now,
Beijinhos e saúde!
Mia