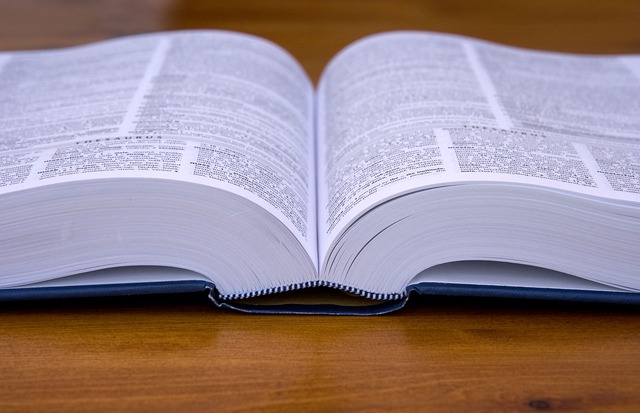 Having taught a lot of students, I know how hard it can be to find a good dictionary that will allow you to correctly translate Portuguese to English or vice-versa and help you with your Portuguese learning process.
If you are still old-school, you might want to try some good paper dictionaries. I, myself have lots of them at my parent´s home, but I never use them anymore (sad, but true…nothing against using them, though!). Nowadays, as we all are aware of, especially those of us who are "internet-freaks", we can find lots of dictionaries online. So much so, that sometimes it gets confusing to find the right one and we end up using "google translator", which is not always the best option.
Sure, google will give you a notion of what you want to translate, but not always will it be a hundred percent accurate. Thus, while being a brilliant tool to help you getting started, there are also some other dictionaries online that you can use to continue your search for the best translation.
"Your mum reminds me of a cow" – Uppppps….
Next, you will find a list of online dictionaries I normally use, in order to avoid the erroneous translation "Your mum reminds me of a cow", when in fact I want to say "Your mum has a lovely house". Does this situation sound familiar? Want to avoid it? Then continue reading.
---
This is an amazing dictionary, as it not only gives you the translation of the word, but it also allows you to see the word in context. You can see various excerpts (ahah…wanna know a funny thing? I just looked that word up in linuee.pt) of texts, that were previously translated from other people, some of which were even translated by professionals. No matter what technical term you are looking for, being it about IT or architecture or cooking, you will always find at least one translation made by a specialist.
The other interesting thing about this dictionary is that it has an app that you can download, so that you can easily access it from your phone wherever you are. You don't even have to have access to the internet. Once you download the app, you can always connect to it and have the answers to your translation questions. Cool, huh?
Besides, the linguee webpage allows you to see the English version, making it super easy for you to navigate, even if you are not a Portuguese speaker.
The cherry on top of the cake, however, is the amount of languages that it allows you to translate from and into. In fact, you can use it for all of the following languages and conjugations of languages: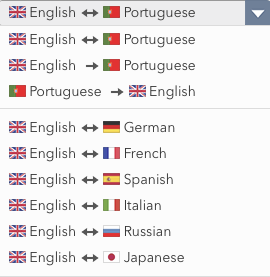 And this is just the start! If you go on the actual website, you will see that there are many more! And always with the possibility to see the translation put into context and made by professionals of different areas. Interesting, right?
Although I haven't used this dictionary a lot, from the little experience I have been having with it, it seems quite interesting and thorough. The webpage allows you to simply choose the languages you want to translate from and into and it also gives you a lot of different options of languages. Moreover, it also uses different sources that show the different translations that a specific word or expression may have.
A peculiarity about this source is that it gives translations of words for both European Portuguese and Brazilian Portuguese. This might be interesting for people who are seeking to learn both variants of the language.
If you want to experiment it right now, just type "train" into the search bar and ask the dictionary to translate it into Portuguese. You will get the words "comboio" (the European Portuguese translation) and "trem" (the Brazilian Portuguese translation). This is also possible if you want to do the opposite. If you come across with any of the variants of the word, be it in European Portuguese or Brazilian Portuguese, you can type it in the search bar and both will give you the result "train". Like this, you will be sure you won't ever go without an answer, whether you are reading a Brazilian book or a Portuguese novel.
Take a look:

You can always see all the versions of the word. You can also add your own contribution. In the part where it says "Conhece outras traduções para 'train'?", it is asking if you know other translations for the word. If you do, you can add your contribution by sending a feedback. This is also another peculiarity of this dictionary and I guess it makes it more complete in a way.
Ok, this is not really a dictionary for translation, but I guess that since I am at it, I could also introduce this one. In fact, this is a Portuguese to Portuguese dictionary and I guess it can be of enormous help when you are already more advanced in the language learning process and you want to get a "deeper picture" of the meaning of a word.
Be aware, though, that this dictionary is mainly focused on European Portuguese, so if you write the Brazilian version of "train", you probably will not get the same meaning of "comboio", which if you remember, means "train" in Portugal.
A very interesting feature that you can find in the dictionary´s website is that you can consult the most (re)searched words of the day and even of the past year. In fact, every year, Pribeeram makes a list of the most searched words in each month of the previous year, which in my opinion is really curious.
Here are the most searched words in July 2016…

…very curious indeed! This was around the time when Portugal won the Euro 2016 and people were apparently curious about our national anthem, which contains all of these words. Interesting how linguistic research is influenced by what happens around us, right? I am even surprised that the most researched word at this time wasn't "Cristiano Ronaldo". Ahah. Just kidding.
---
Ok peeps. Thank you very much for putting up with me during one more entire post 😉 I hope that I somehow helped you organising your ideas about the best way to translate Portuguese to English and vice-versa (or any other languages you are searching for).
Don´t be a stranger and leave me your comments below. That will be most appreciated!
Beijinhos,
Mia