What An Amazing Day At The Beach In Porto
---
Today I would like to tell you about my day at the beach with my dog Nala. See, for those of you who still dont know it, I have a Podengo Português (Portuguese breed) who is called Nala and she is a sweetheart, but a super hyperactive dog. Podengo Português is a hunting breed, so I guess you can imagine how much exercise this dog needs (as I am totally against hunting, so she never does that) …
Make sure to read until the end where I will share some Useful Portuguese Words Related To Dogs.
Every day I try to find alternative sources of fun for Nala. It is like a part-time job! So, today I decided that our afternoon stroll would be along the beach and we packed our stuff and there we went. Nala and I.
When we arrived at the beach, that is when the mystery began.
The thing is…normally here in Porto it is super windy near the coast. And since it was pretty windy already near my house (which is a bit more inland) I thought it would be unbelievably windy and cold by the beach (yes, for those of you who think that Portugal is only about warmth and sun, obviously you have never been to Porto at the beach in most days ;))!
BUT…SURPRISE SURPRISE!
Today the wind decided to give a truce and all we could feel was a mild breeze. We looked around and we found a non-guarded beach where Nala could run and catch her ball and go in the water. The water looked amazing, but I know that it is always very cold, so first I just looked at it.
But then, seeing more people going in and Nala having fun catching her ball even when I threw it in the sea, I thought…"MAN I really like the sea, so I am going to wet my feet even if the water is freezing cold".
That´s what I did. I walked towards the ocean, I felt the sand on my feet (a bit ouchy, as some stones are quite hard on the feet) and I saw the waves and I prepared myself for the impact of the cold water on my feet and to that stinging sensation I always get on such occasions.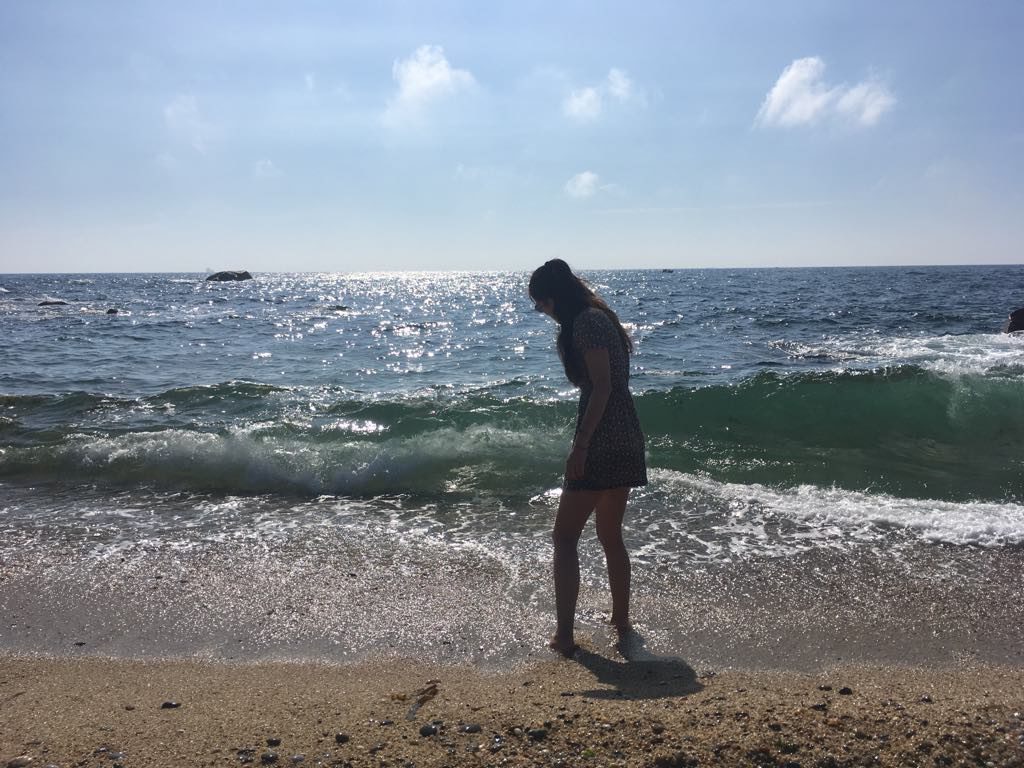 BUT…THAT IS WHEN I GOT MY SECOND SURPRISE!
The water was REALLY not cold! It was actually quite pleasant and I stood there feeling the waves coming and going and just enjoying my time. I think I stayed for an hour until I decided that it was time to go back. But I felt like the happiest kid at the beach! =)
I love the water and I am truly happy when my Porto surprises me this way! The beaches here are amazing and wasn´t it for the wind, I would stay here during summer!
Also, Nala enjoyed every bit of it as much as me. We trained all the tricks that she knows and she was also like the happiest kid! Actually, I think she was REALLY the happiest kid!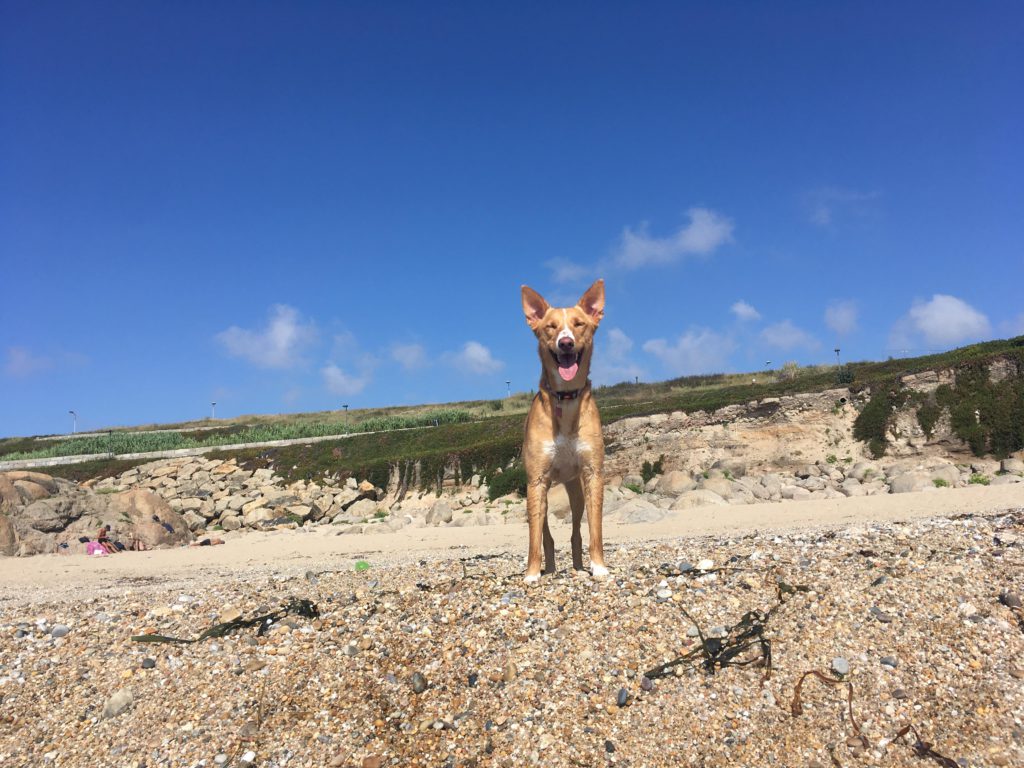 USEFUL PORTUGUESE WORDS TO TRAIN YOUR DOG
Just for fun, in case you have dogs and you want to teach them tricks in Portuguese (so as to have a secret language between you and your dog only!), here are some commands:
Senta (sit)
Deita (lie down)
Espera (wait)
Anda (come)
Toca (touch (the hand))
Vai (go)
Dá a patinha (give the paw)
You can also check some useful words related to your pets on the list below:
Trela (leash/ lead)
Coleira (collar)
Tigela (bowl)
Bola (ball)
Osso (bone)
Passear o cão (walk the dog)
Cão / Cadela (dog / female dog)
I made a YouTube video, where I am doing a "live training" with Nala 🙂 check it out here:
Did you like learning about these common Portuguese words? If you want to learn more, and speak Portuguese like a pro in no time, check out my 100% online course. You can do it whenever and wherever you want! I am so sure you are going to like it, you get a 30-Day Money Back Guarantee!
Find all details about the course here: European Portuguese Online Course
In case you have any questions just let me know =)
Beijinhos
Mia
P.S. Look how tired Nala is now after this amazing day at the beach: