If you have been studying Portuguese, you probably came across these two words – tudo and todo. If you did, you probably are wondering when to use tudo and when to use todo. You might even be a bit confused and I don't blame you.
These two words create a lot of confusion and in this post I will explain to you what is the difference between them.
By the way… I also created a YouTube video about this topic. Check it out here:
How to use Todo
---
This word means all or every in English, but this probably does not help you much, since tudo is going to have more or less the same translation.
Therefore, I find it more useful to explain how this word is used in Portuguese. Hopefully, you will get it then 🙂
So, the first thing you have to know about todo is that it is variable, unlike tudo. This means that this little word will vary according to the subject of the sentence and it will have masculine, feminine, singular and plural forms.
Take a look:
Masculino Singular

Feminino Singular

Masculino

Plural

Feminino Plural

todo
toda
todos
todas
As you can see, when we have a masculine version of this word, it will end in an "o" and in "os" in the plural; on the other hand, when we have a feminine version of this word, we will end up with an "a" at the end of the word in the singular form, and an "as" in the plural form.
But then, when do we use it?
We use it to speak about a whole group of things or people – to speak about all its elements.
Check out the examples below:
Todas as pessoas gostaram do jantar. – Everyone liked the dinner (lit. All the people liked the dinner).
Todos os carros estão estacionados. – All the cars are parked.
As you can see, we use it when we have a group of things or people and we want to include all of the elements of the group in what we are saying – in this case everyone and all the cars.
This means that we had a certain amount of people coming for dinner and from those people everyone liked the dinner. In the same way, imagine we have 100 cars from the guests and we want to say that of those 100 cars, all are parked. We are speaking of all the elements of the group.
Note that todo has to agree with the noun in gender and number – todas as pessoas; todos os carros.
Besides this, I would also like to point out that we can use todo to speak about the whole portion of something.
Let me try to make it clearer.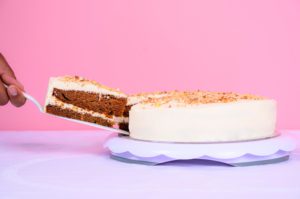 Imagine you have a cake. A cake is composed of many slices. If someone comes and eats the whole cake, I can say:
Ela comeu o bolo todo.
Note that in this case I can also use todo in a different position on the sentence:
Ele comeu todo o bolo.
So, in this case I am not speaking about the elements of a group, but I am speaking about the whole of something.
Another example could be:
O concerto durou a noite toda.
O concerto durou toda a noite.
They both mean the same and we would translate it as something like The concert was on/took the whole night.
How to use Tudo
---
Now that we have checked the use of todo, let's see when we can use tudo.
As I said, tudo can also mean all. However, it can also be translated as everything. This might already help you a little bit telling these two words apart.
In fact, we use tudo to speak about the totality of something and we normally use it to substitute the group of people or things previously mentioned in the text.
Let's take a look at the following examples:
O Henrique comeu as batatas, o arroz, a carne, o peixe… Comeu tudo! – Henrique ate the potatoes, the rice, the meat, the fish…he ate everything!
Vai tudo ficar bem – Everything will be alright.
As you can see, in the last example there is not even a previous reference in the text to the things we are substituting with tudo.
However, we can understand it by context. When we say vai tudo ficar bem (a sentence used often in the times of Covid-19), we mean that everything – be it the people, the jobs, the health, everything… – will be alright. We don't need to enumerate the things before, we just need to understand what we are talking about by context.
Another point you should pay attention to is that tudo is invariable. That means that it never changes, no matter what noun you have next to it. Tudo will always be tudo.
Conclusion
---
In conclusion, todo and tudo can be difficult to tell apart, but here are some key points about these two words:
Todo
It is variable
It refers to a whole group of things or people
Tudo
It is invariable
It refers to the totality of things
It normally substitutes the elements of a group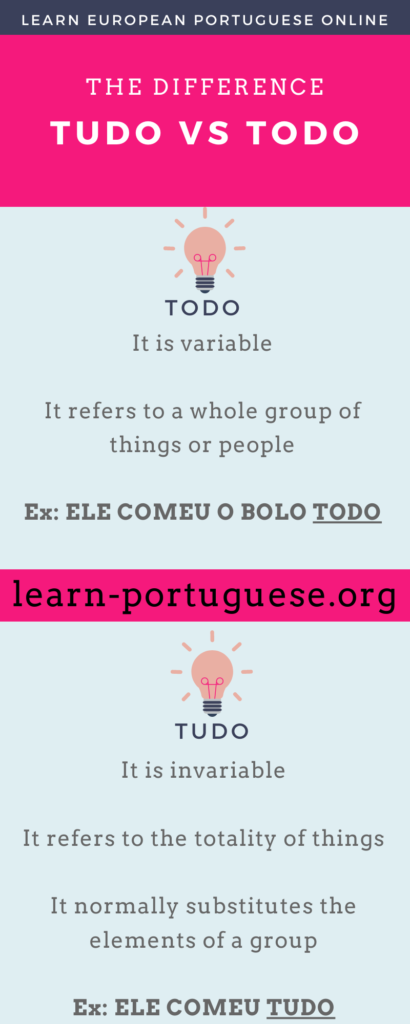 I hope that this post will help you disentangle these two words and that you will know better when to use one and when to use the other.
Leave me a comment below with a sentence using both tudo and todo. Can you do that? 🙂
Beijinhos
Mia.