The Portuguese National Anthem is, in my opinion, a musically beautiful anthem with somehow "harsh" lyrics. Nevertheless, I do like our national song and in this post I would like to tell you a little bit about it and how it came to be.
The history behind Portugal's National Anthem
This anthem was put together after England gave Portugal an Ultimatum, saying that either the Portuguese would retreat from Africa (and leave the coast free to the British) or measures would be taken that would leave the Portuguese in a bad position.
This had to do with economic interests (of course!) that were overlapping. England being the strongest country of the two at the time, didn't leave much room for negotiation, and Portugal ended up retreating and giving the power to England..
When this happened, the Portuguese Republicans were not happy and they blamed the Portuguese Government for it, making it fall. In fact, this was considered as a political outrage by politicians and historians in Portugal, as England and Portugal had been allies for ages prior to this.
So, in this context of aroused nationalism, the Portuguese anthem was created. Maybe by knowing this, the lyrics will make more sense when you hear them.
If you want to hear me singing the Portuguese national anthem you can check out the following YouTube video 🙂
The Portuguese Anthem – A Portuguesa
The name of the Portuguese anthem is A Portuguesa. As discussed above, this was created in the context of the British Ultimatum to Portugal and it embodies the feelings that most influential Portuguese personalities had at the time.
The composer of A Portuguesa was Alfredo Keil and the lyrics were written by Henrique Lopes Mendonça.
Although created around 1890, as we saw, the song was not considered the Portuguese national song up until 1911, after the Portuguese Republic had been proclaimed. Before this anthem, the national song was considered to be the Hino da Carta, but was then replaced by A Portuguesa.
This hino can then be considered a patriotic march, that later was used as the Portuguese anthem for the Republic and that we have until today.
You will likely hear it if you like football or any other sports, as when Portugal plays, the anthem will be heard and sang along by the players and supporters.
Several people, when listening to the anthem, will stand up and put their right hand over their hearts. Although this might be seen as a bit too extreme, many people still believe this is a sign of respect to the country that we call our home.
Too much nationalism? Maybe… but this is why you will see some people standing up as soon as the anthem starts.
Is this the same in your country?
Portugal anthem – the lyrics
Now that you know a little bit of the reasons and the story behind the Portuguese national anthem, it's now time to take a look at its lyrics.
Although the anthem has more than one verse, most people only learnt the first (or maybe second) verse at school. At least younger generations…
I actually remember that my grandma always told me that they used to learn all the verses at school. And they had to learn it or their teachers would be unhappy…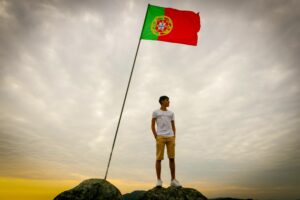 I, for example, only learnt one of the verses and that is the one you will hear at games or events where the anthem is sang.
However, I will show you all the lyrics, with all verses included, so you can learn them if you want 🙂
According to Wikipedia (and proof-read by me), here are the lyrics in Portuguese and English.
Lyrics of the Portuguese anthem
1st Verse PT
Heróis do mar, nobre povo,
Nação valente, imortal,
Levantai hoje de novo
O esplendor de Portugal!
Entre as brumas da memória,
Ó Pátria, sente-se a voz
Dos teus egrégios avós,
Que há-de guiar-te à vitória!
1st Verse ENG
Heroes of the sea, noble people,
Valiant and immortal nation,
Raise once again today
The splendor of Portugal!
Among the haze of memory,
Oh Fatherland, one feels the voice
Of your distinguished forefathers,
That shall lead you on to victory!
Chorus PT:
Às armas, às armas!
Sobre a terra, sobre o mar,
Às armas, às armas!
Pela Pátria lutar!
Contra os canhões, marchar, marchar!

Chorus ENG:
To arms, to arms!
Over land, over sea,
To arms, to arms!
For the Fatherland, fight!
Against the cannons, march on, march on!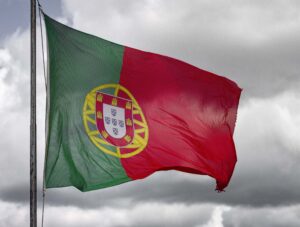 2nd verse PT
Desfralda a invicta Bandeira,
À luz viva do teu céu!
Brade a Europa à terra inteira:
Portugal não pereceu
Beija o solo teu jucundo
O Oceano, a rugir d'amor,
E teu braço vencedor
Deu mundos novos ao Mundo!
2nd verse ENG
Hoist the undefeated flag,
In the lively light of your sky!
May Europe cry out to the whole Earth:
Portugal has not perished
Kiss your merry ground
The ocean, roaring with love,
And your victorious arm
Gave new worlds to the world!

Chorus
3rd Verse PT
Saudai o Sol que desponta
Sobre um ridente porvir;
Seja o eco de uma afronta
O sinal do ressurgir.
Raios dessa aurora forte
São como beijos de mãe,
Que nos guardam, nos sustêm,
Contra as injúrias da sorte.

3rd Verse ENG
Salute the Sun that rises
Over a gleeful future;
Let the echo of an offense
Be the sign for a comeback.
Rays of this strong dawn
Are like a mother's kisses,
That keep us, sustain us,
Against the injuries of fate.

Chorus
So here it is! Three verses of this musically beautiful anthem.
Tell me, have you ever heard the Portuguese national anthem? Do you like it? Do you think anthems are too nationalist and patriotic and cause more damage than good? Do you feel proud when you hear your national song?
Answer in the comments section below so I know where you stand.
Also, if you want to hear Portugal's national song, please click here. You can learn it and impress your Portuguese friends and family. What do you say?
Also, next time Portugal plays, you can try to sing along with the players, especially if you are a fan of Cristiano Ronaldo he he.
I hope you've enjoyed this article and that it helps you learn the Portuguese national anthem.
Before I go, I just want to leave here some vocabulary related to this topic in Portuguese – go ahead and add it to your flashcards:
Hino Nacional – National Anthem
Bandeira – Flag
Nacionalismo – Nationalism
República – Republic
Presidente da República – President of the Republic
Primeiro-Ministro – Prime-Minister
Monarquia – Monarchy
Leave me a comment below, don't be a stranger! 🙂
Beijinhos,
Mia