Olá! Do you live in Portugal and have you ever tried to send a letter to someone? Did you have any difficulty explaining what you wanted to send and where or did you not know the best method to do it?
I understand.
It is not easy to send letters or packages when you are in another country, especially if you are still learning the language. Sometimes, the employees at the post office, for example, may not know English very well, and it may be necessary to speak Portuguese. So, if you want to learn 10 Portuguese Phrases that can help you on your next trip to the post office in Portugal, come with me!
You can also learn about this topic on my YouTube channel:
10 Useful European Portuguese Phrases that you might need at the Post Office in Portugal
Bom dia. Queria enviar esta carta para Inglaterra, por favor.
Good morning. I would like to send this letter to England, please.

"Bom dia" is a common Portuguese greeting that you can use to greet the postal workers and start your request. Remember to mention where you want to send your letter or package.


Eu preciso de um selo postal.
I need a stamp.

If you want to send a letter or package, you will need a stamp. Make sure you buy the right stamp for the destination of your correspondence.


Posso enviar esta encomenda como encomenda normal ou tenho que escolher um método de envio diferente?
Can I send this package as regular mail or do I have to choose a different shipping method?

Depending on what you want to send and where, there may be different options for shipping. Ask the postal worker what the options are.


Preciso de um envelope almofadado para enviar esta encomenda.
I need a padded envelope to send this package.

If you want to send something fragile or valuable, it is important to pack your correspondence correctly. Ask the postal workers about the types of envelopes available.


Quero enviar esta encomenda com aviso de receção.
I want to send this package with a return receipt.

If you want proof of delivery of your correspondence, ask for it to be sent with a return receipt. This can be useful if your correspondence is lost or does not arrive at its destination.


Pode ajudar-me a preencher este formulário de envio?
Can you help me fill out this shipping form?

If you are not sure how to fill out a shipping form, ask the postal workers for help. They can guide you step by step.


Qual é o tempo de entrega estimado para esta carta/encomenda?
What is the estimated delivery time for this letter/package?

If you need your correspondence to arrive at its destination as soon as possible, ask the postal worker how long it will take to get there.


Quanto custa enviar esta carta/encomenda para os Estados Unidos?
How much does it cost to send this letter/package to the United States?

This is an important question to ask, especially if you want to make sure you have enough money with you to pay for shipping. Prices vary according to the size and weight of your correspondence.


Posso pagar com cartão, ou tem que ser em dinheiro?
Can I pay with card, or does it have to be in cash?

If you want to ask which payment methods are accepted at the post office, you can use this phrase. Nowadays, a lot of places accept debit/credit cards.


Onde fica o marco de correio mais próximo?
Where is the nearest drop-off point location?

If you need to send or receive a letter or package without going directly to the post office, you can use one of the available drop-off locations. Thus, you can ask the postal worker where they are, so you already know next time.
Now you have 10 European Portuguese Phrases to learn and use the next time you're at the post office in Portugal. I hope they are helpful to you. Don't hesitate to ask the postal workers more questions if you need additional help.
If you found these sentences useful, I have two more resources that I would like to share with you. First, you can check out these 10 European Portuguese Phrases that you can use at the Car Repair Shop in Portugal.
Second, I have a full course that can help you with your everyday conversations in Portugal. Read on to find out about it 🙂
Portuguese Course to help you with your Everyday Conversations in Portugal
If you don't know what else you may need to know when sending a letter, or you don't know what language to use – for example, how to say "sender" and "recipient", or what to say when you want to send a priority letter – but you would like to learn it, I invite you to check out my course "Portuguese Everyday Conversations".
In this course, you will find complete dialogues in Portuguese that will help you practice your daily conversations in Portugal, including visits to the post office, the car mechanic, the supermarket, and the pharmacy, among many others.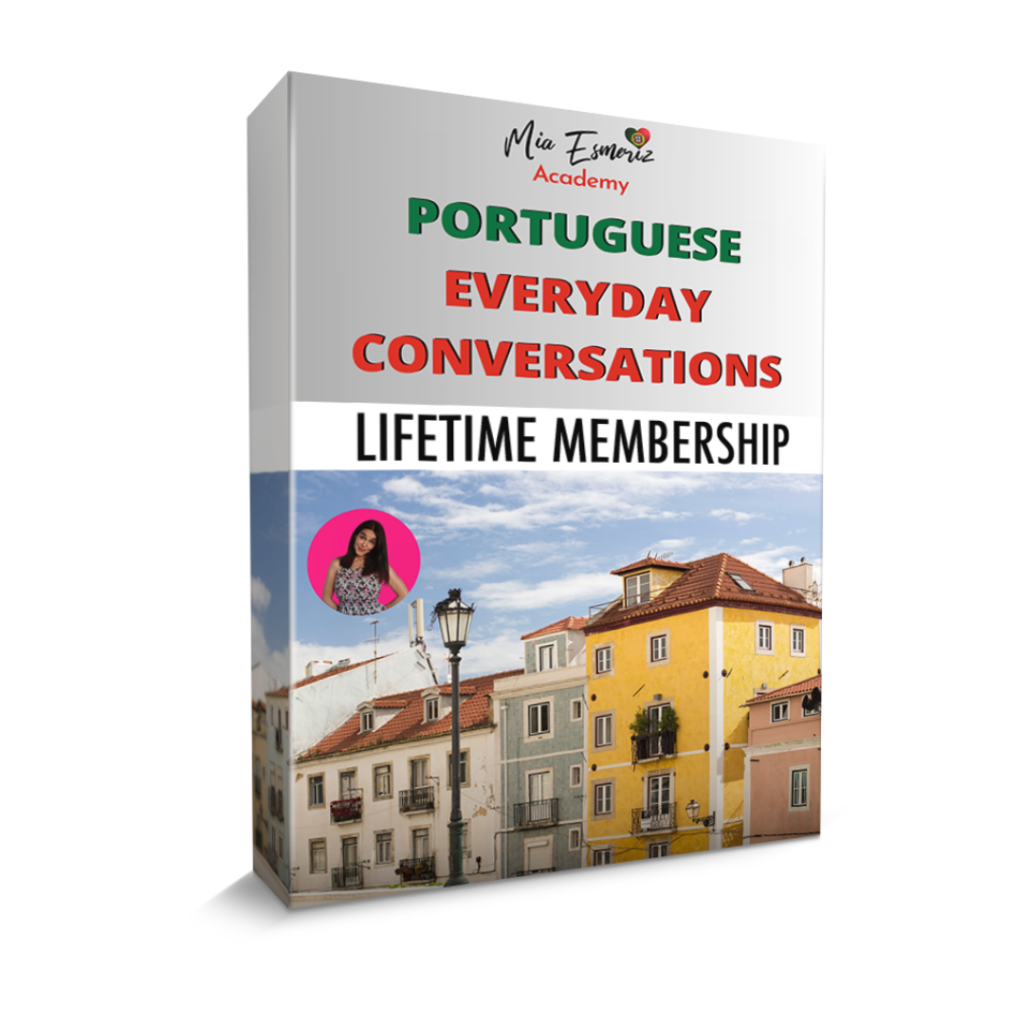 In addition to the dialogues, you will also have access to vocabulary related to the topic of each dialogue, along with its translation, as well as fantastic bonuses. The bonuses include tips for improving your understanding of Portuguese when spoken quickly; topics to start your conversations more easily and break the ice; a list of connectors and the explanation of each one, so you know how to connect phrases better in Portuguese and speak more naturally; and tips for speaking more easily on the phone in Portuguese.
If you think this can help you develop your Portuguese and if you're tired of feeling lost when someone speaks to you in Portuguese in your daily life, then don't miss this opportunity to join this course. You can join at 30% OFF for a limited time, so click now on the link below:
Portuguese Everyday Conversations – 30% Discount
I hope you enjoyed this post. See you next time!
Beijinhos,
Mia