Hello everybody! Today, I want to tell you something about Portugal and Hawaii.
A couple of months ago, I was on vacation in Hawaii, more specifically in Oahu, because my boyfriend has family there. Here in Portugal, Hawaii is almost considered as a vacation paradise, and as it is so far away, I don't think many Portuguese people believe they will go there in their lifetime. At least, I know I never thought that I would really go there one day.
But as part of my boyfriend's family lives there, and as we hadn't seen them for a long time, we thought it was a unique opportunity and off we went!
I knew that Hawaii excelled in terms of natural beauty, and I was looking forward to exploring its beaches and mountains.
Açores and Madeira similar to Hawaii
I also knew that many people compare the Azores and Madeira, in Portugal, with Hawaii. However, I wasn't expecting to find out what I did. In fact, I realized that there is a lot of Portuguese influence there.
It is true!
A place so far from Portugal, but still with very visible traces of the Portuguese culture. So, I decided to create this post and video to show you what I discovered there!
If you're interested in knowing, come with me on this adventure!
Portugal and Hawaii – Weather
My first impression of Hawaii was that it was warm and humid. I thought it wouldn't be as humid there as it is in Portugal, I don't know why, but I was wrong. Despite thinking that it would always be sunny and hot, I noticed that sometimes in certain parts of the island, there is also a cooler wind. I immediately saw a similarity with Portugal there!
Portuguese Ancestry in Hawaii
I also began to notice that here and there there were some Portuguese names, or at least similar to Portuguese. For example, once I was swimming on this beach here called Waimea beach and a guy passed me by and he had a big tattoo on his back that said "Ferreira". Well, I was surprised, because Ferreira is a very common family name in Portugal.
What did I do?
I asked the said boy if he was Portuguese, to which he replied that he was. However, he was already second or third generation, and he didn't know how to speak Portuguese, and he also didn't know very well where his father was from. But he knew his name was Portuguese, and therefore he had it tattooed on his back.
I, of course, was delighted.
Talking with the husband of my boyfriend's sister who is Hawaiian, I realized that, in fact, the Portuguese influence is very present on the island of Oahu, and even he himself thinks that he has a distant Portuguese family.
He told me that there was strong Portuguese immigration to Hawaii, which started around 1880 when Portuguese from the Azores and Madeira emigrated there to work on the sugar cane plantations.
I could also see that when we went to visit the "Polynesian Cultural Center" in Oahu. Yes, the Polynesian Cultural Center! How is it possible to have found information there about the influence of the Portuguese on the island?
Well, it's easy!
There was an exhibition about the Ukulele and its history.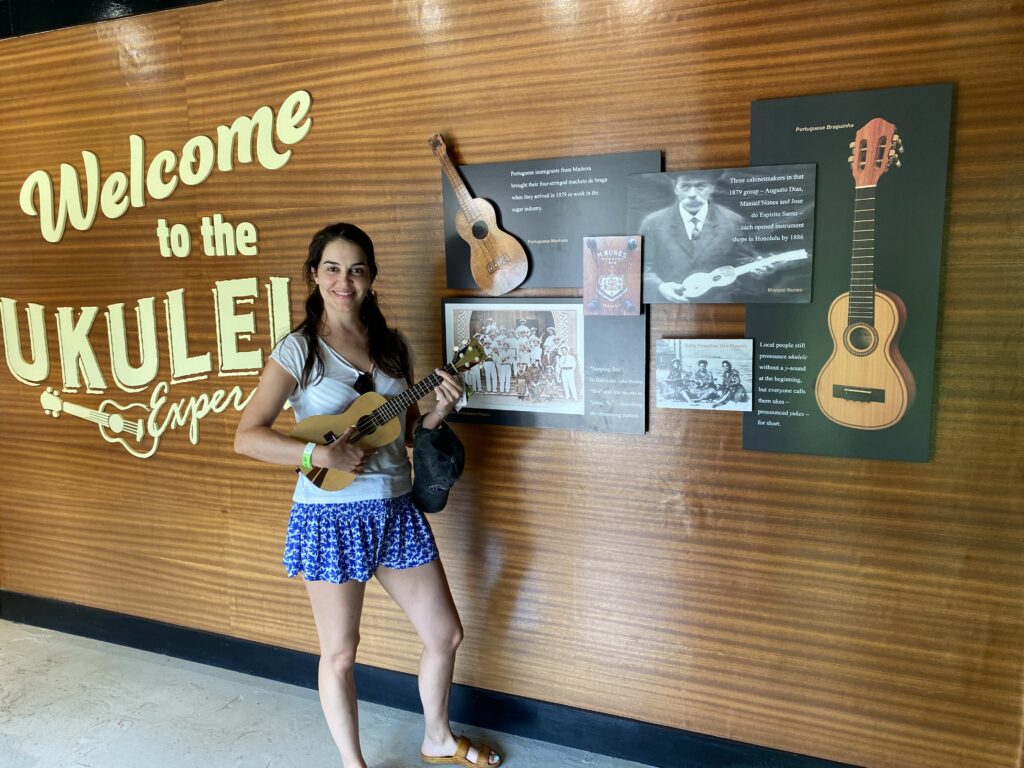 The history of the Hawaiian Ukulele and its origins in Portugal
I already knew that the Ukulele was inspired by a Portuguese instrument, and like many people, I thought it was inspired by the Cavaquinho.
However, the Ukulele was inspired by Machete de Braga and Braguinha. These instruments are, in fact, very similar to what we know today as Ukulele, but it seems to me that they were a little thinner, I don't know. I'm not an instrument expert, so if anyone can explain the differences between these instruments, well, don't hesitate to let me know in the comments.
As far as I could find out, at the cultural center, Machete was brought from Madeira, by those immigrants who went to work in Hawaii to work on the sugarcane plantations.
Some of the immigrants who went from Madeira to Hawaii – Augusto Dias, Manuel Nunes, and José do Espírito Santo, opened music stores in Honolulu around 1886.
This was a really interesting trip into the past and I learned a lot!
Finally, I know what instrument inspired the "jumping flea". Ukulele is a Hawaiian word meaning something like "jumping flea", because of the way the fingers seem to quickly jump on the strings when someone is playing the instrument.
Another interesting thing is that the way the locals say the word "Ukulele" is still influenced by the way the Portuguese used to say it. The Portuguese "u" is not like the English "u". So, it doesn't have the sound of "iu", but of "u", a dry "u", as I usually say. So the locals, to this day, still say "Ukulele", not "Ukulele", although when they want to be faster they can just say "Ukes".
This also brings me to another similarity that I found between Portugal and Hawaii, and Portuguese and Hawaiian, more specifically, during my visit to the Polynesian theme park.
Portuguese and Hawaiian Language Similarities
There, there were several things that transported us back in time, to the beginnings of Polynesian culture. There were houses, boats, clothing, and much more, mimicking the ancient things that could be found in the countries that were part of Polynesia – countries like Fiji, Hawaii, Tahiti, Tonga, Samoa, and New Zealand, among others.
One of those things was a school I found when I was visiting the Hawaiian culture section. In this school, as you can see from the image, I discovered information regarding the Hawaiian language, and I realized that there were once again similarities with the Portuguese language.
That's when I made this video, talking about Hawaiian vowels, and comparing them with Portuguese vowels.
As you can see, the Hawaiian "a", "e", "i", "o", and "u", are said in the same way as in Portuguese, and quite differently from English. I'm not trying to say that this is a Portuguese influence on Hawaiian, but I just found this similarity of sounds interesting, which I found in Hawaii when I read things in Hawaiian. They are not similar languages at all, but I managed to find similar sounds and similar ways of reading them.
Portugal and Hawaii – Food
Turning now to the food, I also found some similarities. Unfortunately, I didn't make any videos of some typical Hawaiian food I ate, which reminded me of Portuguese food. However, I can tell you that almost all the local food I ate, not the street food from fast food trucks, but the home-cooked Hawaiian food, was similar to Portuguese food. As an example, I can tell you that I ate a meat dish that looked a lot like Portuguese stewed meat. I ate fish that also reminded me of the Portuguese way of cooking and even octopus.
As I explained, unfortunately, I was too busy enjoying the food to remember to take pictures of these delicacies, but there was a typical Portuguese sweet that I discovered is very famous in Hawaii and of which I took videos and photographs.
Hawaiian Malasada vs Portuguese Malassada / Bola de Berlim
The famous Malasada or "Pãó dôcé", in Hawaii, or Malassada, in Portugal. This sweet is typical of Madeira and, in my opinion, is very similar to the best-known "bola de berlim".
I didn't know it, but apparently, it's a sweet that is much sought after by Hawaiians and is only sold in some parts of the islands. As it could not be otherwise, when I found out about this, I had to go there to see and try it out.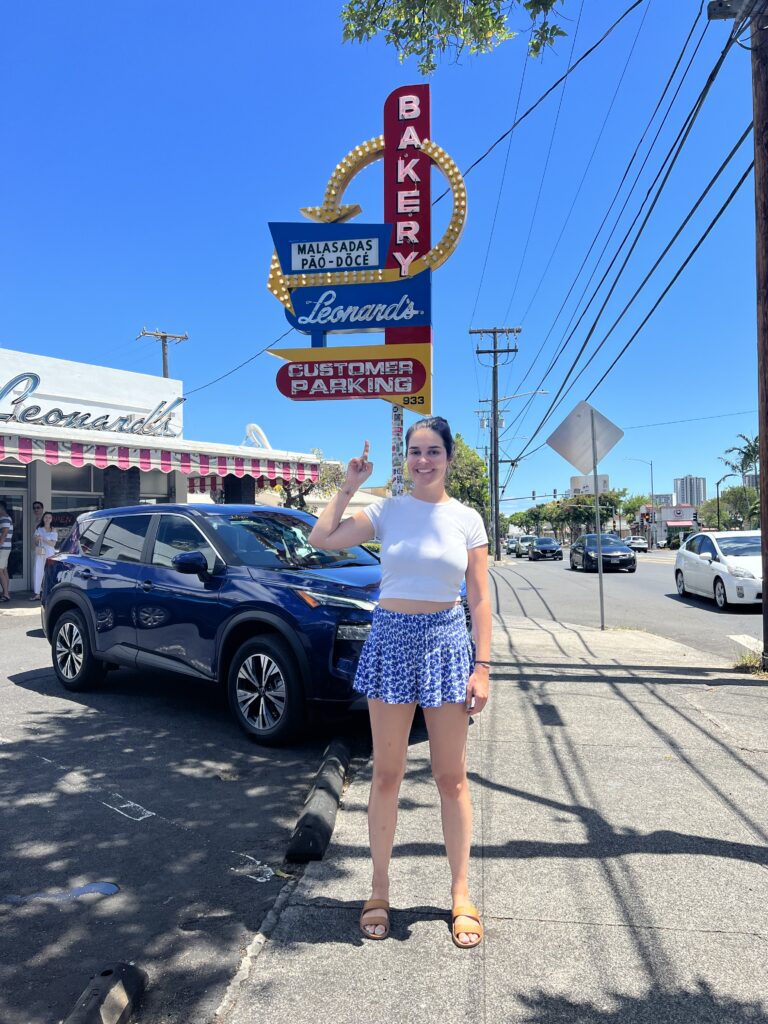 One of these Malasadas outlets is in Honolulu, at Leonard's bakery. This bakery specializes in selling these Portuguese sweets, as it was founded by the children and grandchildren of Portuguese immigrants who went to work on the plantations in Oahu. Its success was huge and still is! When I was there, for example, there were a lot of people waiting to buy this sweet!
So of course I also had to taste these sweets and, YES, they are approved!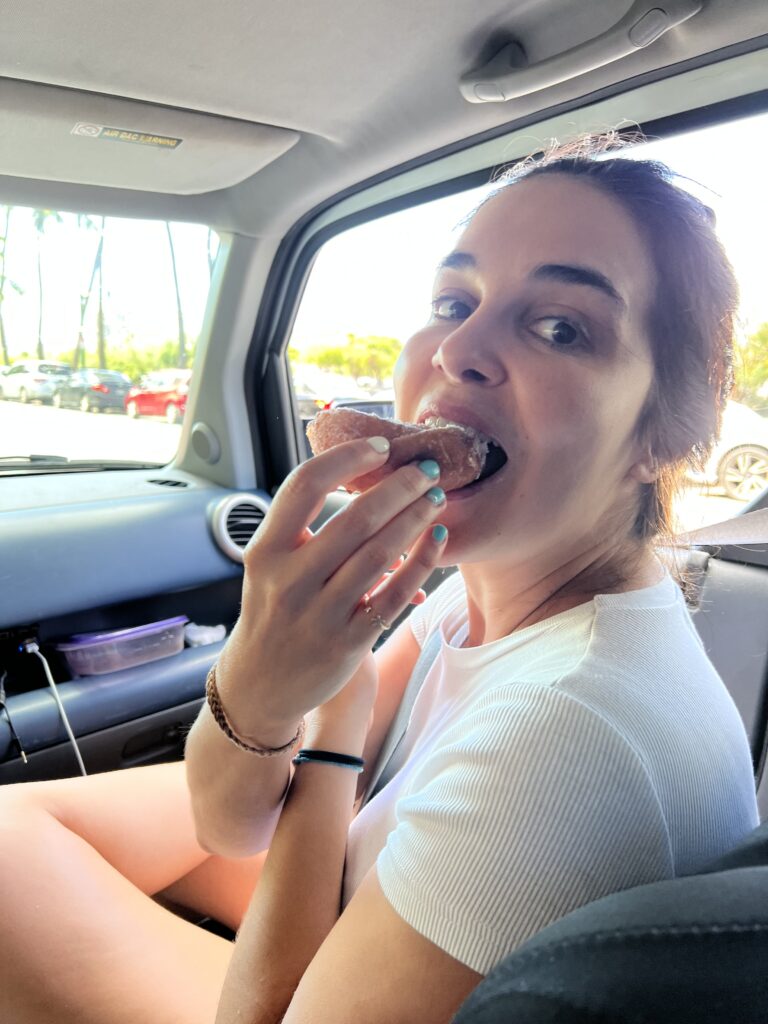 They are as good as our "bola de berlim" and you can also buy them with or without filling, just like in Portugal.
Especially on the beaches of the Algarve, in summer!
Honolulu, Diamond Head and Waikiki Beach vs Waimea Beach and Three Tables
After visiting Leonard's bakery, we still had time to visit the famous Waikiki beach, but let me tell you: although it's beautiful, and although it's worth visiting at least once, I wouldn't trade the amazing beaches of Waimea and Three Tables, or those on the northern part of the island, for Waikiki Beach. There are just too many people, and I prefer the quieter beaches, where more local people and fewer tourists go.
So, if you can visit other beaches, don't hesitate to do so!
Still, I enjoyed going to Waikiki once to visit, and also seeing a bit of Honolulu and climbing to the top of Diamond Head Mountain – it has some spectacular views!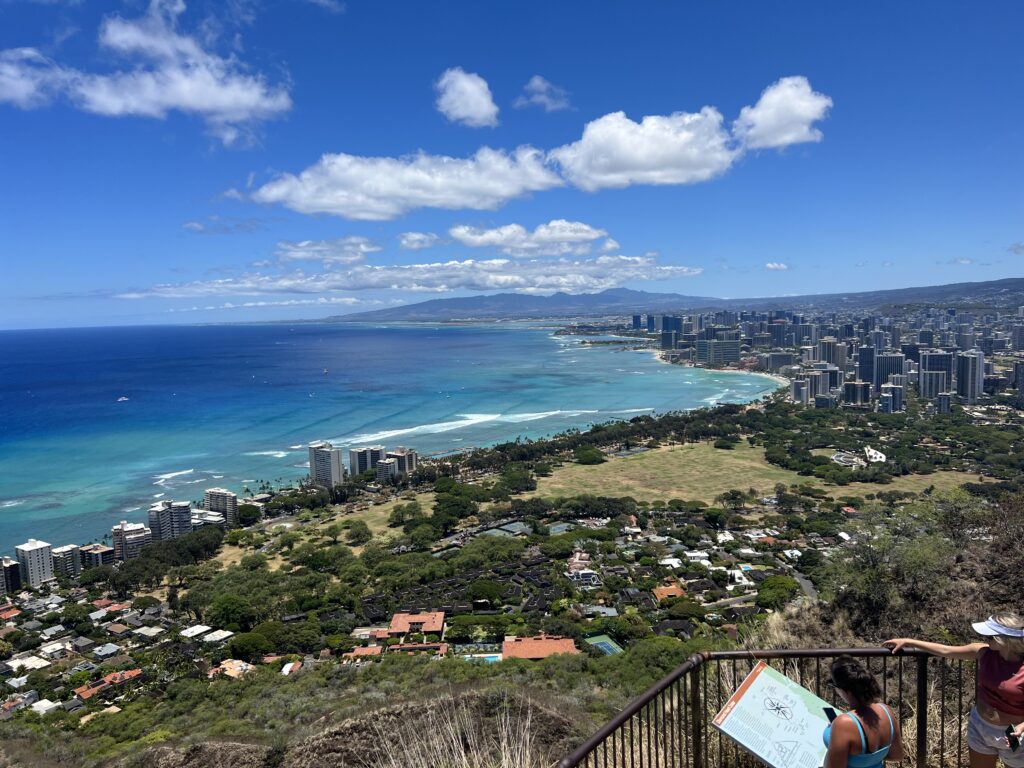 Visit to Pearl Harbor and Portuguese traces
When I thought I would no longer see traces of Portuguese culture in Hawaii, I ended up finding it too when I went to visit Pearl Harbor. The Pearl Harbor museum talks about the Second World War and, more specifically, the Japanese attack on Pearl Harbor in 1941, which precipitated the entry of the United States of America into the war.
Although it was here, in this museum, that I also realized that one of the biggest cultural influences in Hawaii is Japanese culture and that most of the population on Oahu has Japanese origins, I still managed to find traces of the Portuguese, even in this museum!
This happened when I was looking at the names of the numerous boats that belonged to the American fleet. Many of them had Portuguese names or names similar to Portuguese.
Here on the image, we can see one.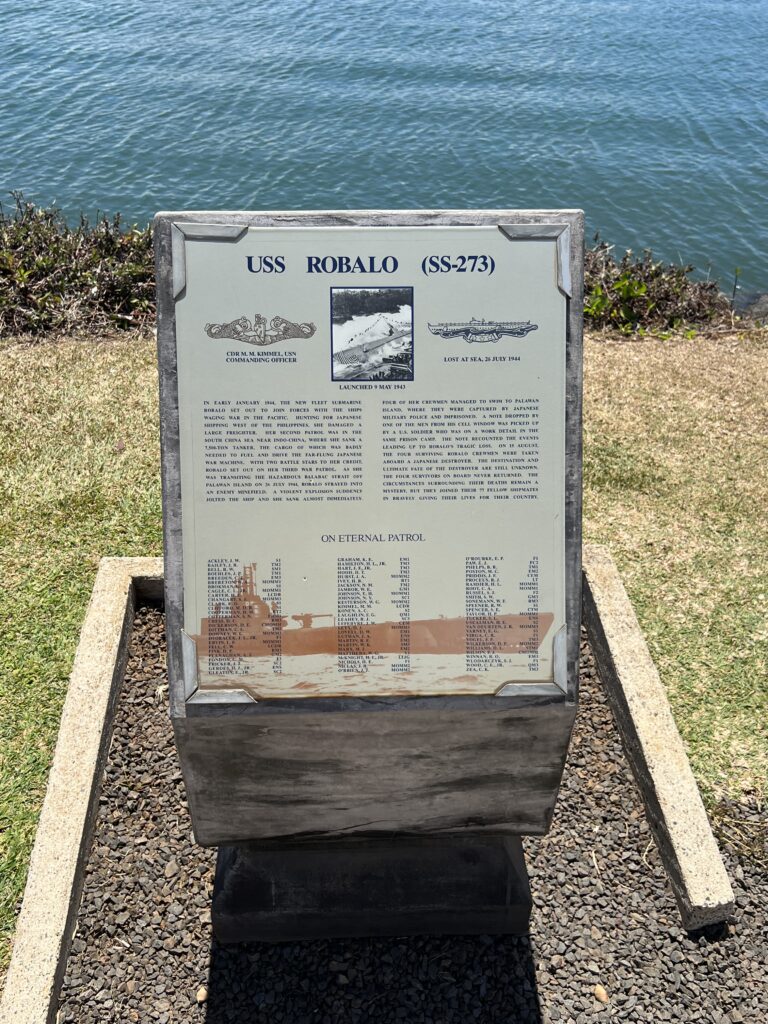 For example, here we have the USS Robalo, where Robalo is the name of a fish (sea bass), in Portuguese. And here, too, the USS Lagarto. "Lagarto" means lizard in Portuguese.
Okay, in theory, these names could also have come from Spanish, but still, I'm not sure if sea bass (robalo) has the same name in Spanish. So I'll keep thinking they came from Portuguese.
Portugal and Hawaii – Conclusion
So, as you can see, the Portuguese are very present in Hawaii, and I read that something like 10% of the Hawaiian population is of Portuguese descent, which surprised me.
Did you know this?
Are you from Hawaii, or do you have family members who are from there? Do any of you have Portuguese ancestry, despite being Hawaiians? Let me know in the comments as I'm curious 🙂
As for my experience in Hawaii: I really enjoyed it, and I want to go back! I hope to be able to swim with turtles and sharks again, go scuba diving, climb to the top of the green mountains and, above all, meet my Hawaiian family.
I hope you enjoyed this article and that you share it with your contacts!
Learn European Portuguese – Mia Esmeriz Academy
If you want to learn Portuguese with me (perhaps to talk to your Portuguese family in Hawaii), don't forget to check out my free Portuguese class 10 Secrets To Learn Portuguese Fast And Effectively. In there, you will learn a lot of useful tips and tricks that can help you with your Portuguese.
You can also check out my Portuguese online courses here. There is a broad range of courses, focusing on grammar, vocabulary, speaking and listening.
That's it for today! If you have any questions, please leave a comment below.
Beijinhos,
Mia